"Knowing your Onions…"
Posted on 2nd September 2021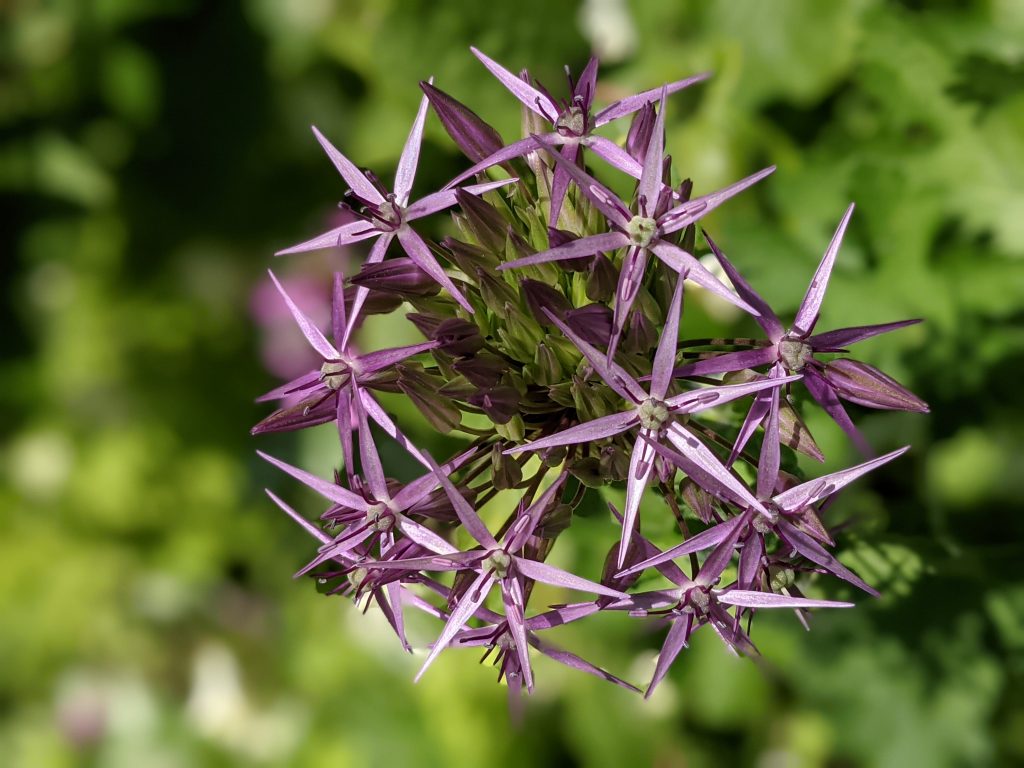 HOMEOPATHY INFORMATION AND THE ONION
Isn't this a fantastic looking flower? It is an ornamental hybrid of the onion; the Allium species.
The common onion is Allium cepa, a name which may derive from two Celtic words "all" and "cep", meaning "hot" and "head". In full bloom the flower is indeed like a head – a big beautiful sphere.
The onion family includes garlic and leeks. Plants used nutritionally and medicinally for centuries. Today the medicinal benefits are still recognised – here is one article – read more
FOLKLORE
In folklore, even in the 19th century, placing sliced onions around the home, or in a bag worn around the neck was considered to protect against contagion during epidemics.
Perhaps we should revisit past wisdom, given the current challenges? But I suspect sending your children back to school with a bag of chopped onions around their neck might not be popular?
BE INFORMED
When chopping onions for the cooking pot streaming eyes and runny nose is all too familiar! This is "coryza" or "rhinitis" in medical parlance.
As a homeopathic medicine, one use of Allium Cepa is in the treatment of an attack of "hay fever", whose symptoms of coryza, as you all know, are rather similar to those from chopping onions. The nasal discharge is acrid and that from the eye bland.
Now symptoms, from a homeopathic perspective, are not just an inconvenience – they point the way to cure. They inform.
So don't go suppressing the symptoms.
The homeopathic core principle is "like cures like". This means giving a medicine that mimics the symptoms suffered.
In short do as the body asks.
Homeopathy supports the body's attempt to cure. It helps it over "the hill" that needs to be climbed.
As I wrote last month "Jaw Jaw is better than War War"
The body speaks its language – it informs; we must listen and act accordingly.
INFORMATION AND QUANTUM
Cutting edge Quantum Physics tells us that our entire universe is "informed". Indeed, it tells us that we are "informed" – right from the moment of our birth to our last breath.
Current thinking is that the brain is a sort of transmitter / receiver, as much as a pseudo computer for processing our thoughts and bodily signals.
So, the brain may be receiving "downloads" – something like the downloads to our electronic gadgets. Fascinating.
Last night, courtesy of the Scientific and Medical Network I listened to Dr Doug Matzke talk about his research into quantum computing.
He has a new book titled "Deep Reality" – tad over my head mathematically – but the fundamental role of "information" in nature is becoming clear.
Homeopathy is information medicine, born ahead of its time.