10 Golden Rules for Good Health
Posted on 5th March 2021
Due to overconsumption of de-natured food, and a lack of exercise and fresh air, many people, especially in the second half of their lives, often become caricatures of themselves … Nowadays we rarely see a really beautiful and healthy looking person … we are either too far or too thin .. or legs are swollen, our feet flat, our backs, bent, our necks stiff. We lose our hair, suffer from dental decay, headaches, flatulence, constipation and depression; we tire quickly and worst of all, many of us no longer enjoy life. Many people never feel really well.

Naturopath, Jan de Vries, from 10 Golden Rules For Good Health (2nd edition 2008)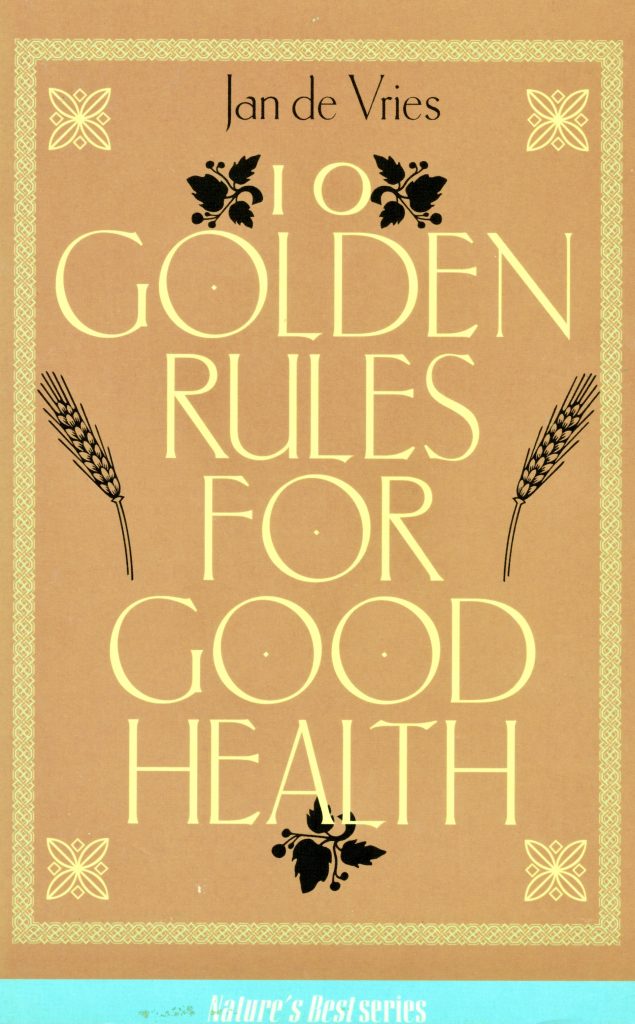 Not a very welcome message, perhaps, but a well meaning one from one of the most notable Naturopaths in the UK and beyond in recent years.
Alas, he is no longer with us, but for many decades Jan de Vries had a clinic in Troon, Ayrshire and people sought his advice from near and far.
He even had a slot on Gloria Hunniford's BBC Radio show. He worked a 90 hour week which included writing many books!
I once had a consultation and his busy clinic was like a hospital out patient dept. He was much loved and is sadly missed.
The Naturopathic approach to health is focuses on the basics, recognising that the self regulating nature of the human organism works best when treated with respect. His five pillars to good health were nutrition, digestion, elimination, circulation and relaxation.
The 10 Golden Rules expand on the five pillars to include such as sleep, and mental health and mental attitude. Top of the list, always, comes nutrition. He tells us that the diets of western industrialised countries – especially the USA and Europe – have changed more in the last 100-150 years, than across millennia before.
Processed foods, sugar, excess alcohol, industrial farming and so on, are not what the body needs. Instead seventy percent of our diets should be of plant origin, and raw fruits and vegetables should be an important part of daily nutrition. Medical science has also come to appreciate the relationship between a healthy immune system and a healthy gut.
Obesity seems to have become rather an epidemic these days. In the past the poor were thin, as is still the case in the developing countries but the opposite seems to be the picture in the western world. And it is the western world that has suffered the most in this Covid-19 pandemic. Food for thought?